Wooden Benches (Beds)
All beds have been turned into benches. You can't really sit on them (as you would on an ordinary bench) but you can lay on them (since they replace beds). They are really useful to use as decorating as they come in 16 different wood patterns. For example, there are everything from birch benches to jungle benches.
Creator: Mellshot, Twitter Account
How does it work?
It is the beds which have been replaced by the benches. This means that you'll have to place down beds in case you want to see these new benches. It would have been possible if it was possible to sit on them, but due to current limitations for resource packs that isn't possible.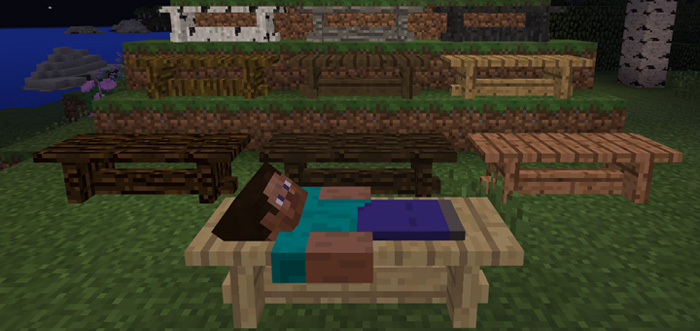 How Is It Installed?
Download the file from the bottom. After you have downloaded files, tap on each one and it will automatically take you to your Minecraft, it will import the file into your game.
Then go to the world where you are going to use the downloaded addon: Edit the world> resource packs> (Activate the resource pack).
Download